A World Record Embarrassment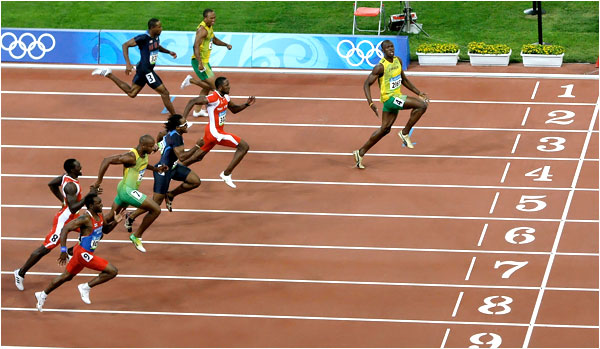 Photo: Matt Dunham/Associated Press
I had just finished watching Michael Phelps make history by winning his record eighth gold medal of these Olympics. It was a moment that gave me and millions of people around the world goosebumps. It was a moment that I will be able to tell my kids about years from now. Phelps was part of the 4×100-meter medley relay team, which was anchored by Jason Lezak. Lezak was able to hold off Australian Eamon Sullivan as the two swam hard right to the finish, right to the finish. It was an awesome race – one that embodied all that is good about the Olympics. I found myself briefly reflecting on how superb these Games have been so far.
Up next on the NBC broadcast was the much-anticipated 100-meter final. It was tape-delayed, and though I tried to avoid hearing who won, I found out earlier in the day that it was the Jamaican Usain Bolt. NBC showed an interview with Bolt, and he seemed like a humble enough guy, proud to be representing his country in Beijing.
After the gun sounded, Bolt surged out to an early lead, and within a few seconds it was clear that he was going to win, and probably set a new world record. What I saw next was shocking. When Bolt realized he had a big lead, he put his hands out, and then pounded his chest, while slowing down deliberately before crossing the finish line.
Bolt won the gold and broke his own world record, clocking in at 9.69 seconds. But it was a total sham – an embarassment to the sport and to the Olympics. I was furious that this chest-thumping showboater was going to be all over the news in the coming days, reaffirmed as "the fastest man in the world." I could think of something else to call him. A friend of mine said to the television in disgust, "All that is asked of you, Usain Bolt, is about 9.7 seconds of effort." Bolt disrespected his country and his competitors, two of whom were fellow Jamaicans. I hope the sports media and the blogosphere tear him apart, and I hope this selfish act turns out to be just an isolated occurrence in what has otherwise been the best Olympics in recent memory.