BlackBerry vs. IPhone, Simplified.
BlackBerry for email, iPhone for everything else.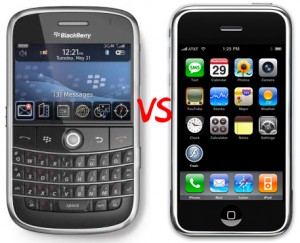 That's what it comes down to. The BlackBerry is specifically designed for email. The iPhone's user interface is really intuitive and elegant, but a seasoned BlackBerry user can simply read and crank out emails faster. The iPhone's keypad is clever and works better than I thought it would, but it's not as good as a real keypad. I need the feel of raised keys on my fingers when I type. A lot of iPhone users will claim that they can type faster on their device than on a BlackBerry, but it has actually been proven that the typing speed on a BlackBerry is about the same as on an iPhone, while iPhone users have substantially higher text entry error rates.
When it comes to everything else – music, mapping tools, social networking, games, ease of use, the overall selection of applications – the iPhone is better. Whenever I start using a new application on the BlackBerry there's a list of shortcut keys I have to memorize, and it's a pain when the keys for one app don't quite work the same on another app. For example, on the Google Maps application you use the letter "I" to zoom in and the letter "O" to zoom out, which seems to make sense. On Telenav (which I use for turn-by-turn navigation), you must use the "*" key to zoom in and the "#" to zoom out – annoying! On the iPhone, you zoom in and out using the "pinch" technique, and that works for all apps where you can zoom. iPhone applications don't have to contort themselves to work with a fixed keypad and trackball like on the BlackBerry.
Don't get me wrong, I've been a happy BlackBerry user for about a year now. I have the BlackBerry 8310, whose standout features are a true GPS and a 2MP camera. I also have the BlackBerry Internet Service plan which gives me unlimited data via the AT&T EDGE network, and pushes my Gmail directly to the device. I use the Google Sync BlackBerry application to sync the device calendar to my online Google Calendar. The other applications I use the most are Telenav for turn-by-turn directions (equivalent app not available yet for the IPhone), and the Facebook application to keep in touch with friends. I think I have a nice little system that keeps my life organized and relatively stress-free.
But my next phone will probably be an iPhone. The new iPhone 3G has caught up with BlackBerry on every feature, and the selection and quality of iPhone apps will soon be far superior. I've been steadily using my BlackBerry for more than just email, so if I can deal with the typing issues on the iPhone I think my overall user experience will be better. Either way, it seems clear that Apple is going after a piece of the BlackBerry user base. It will be interesting to see how RIM responds to this challenge over the next couple of years.